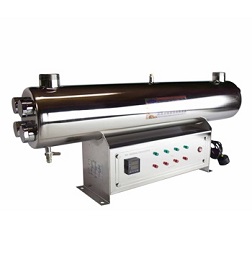 60 GPM UV-Ultraviolet system in Dubai
which are used in water purification application. We offer reliable and cost-effective products that provide maximum protection against bacteria and protozoan in your water.
We provide 60 GPM UV-Ultraviolet system has been sold to a number of satisfied clients within the region. It comes with great features like easy installation and maintenance, superb performance, high efficiency and cost effectiveness.
The UV-Ultraviolet system is a completely automated system that will sterilise your water by sunlight. The solution is very safe and easy to use.
Our Ultra-Pure Water UV System provides safe and reliable water purification. It has been tested to reduce over 99.9% of pathogens and bacteria in your water supply, leaving you with safe, clean water that's ready to be used for drinking, cooking or bathing.
60 GPM UV-Ultraviolet system is the most prominent water treatment it provides high quality drinking water to its customers.
Clean your water with ease using this UV system that's been developed to remove dirt and grime from even the hardest of sources.
UV lamps that kill 99% of bacteria, viral and other microorganisms.