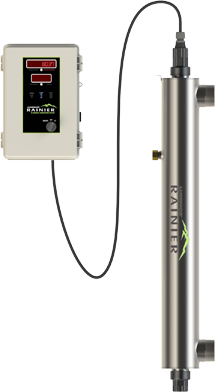 Luminor Rainier in Dubai
Luminor Rainier in Dubai Luminor Rainier is one of the very popular products in the world. It has few unique feature which is different from all other brands product. Luminor rainier is made for industrial use. It is one of the best UV water filtration system.
LUMINOR's RAINIER 5.0 model is a commercial water treatment system, designed with upgradeability in mind. The reactor comes with an integral UV sensor port that will accept the addition of an optional UV sensor module at a future date. If a monitor is not required, an integral visual glow plug is provided as an extra way to ensure that your UV lamp is illuminated. Manufactured from 316L stainless steel, these pressure vessels are designed & manufactured to ASME standards. A bayonet style lamp connector allows for easy lamp change without the need for additional tools. For increased power density, RAINIER incorporates low pressure, amalgam (LP-AM) coated UV lamps offering a consistent output over their 12,000 hour rated life. Monitoring is provided through an integral LED display which outputs remaining lamp life, total running hours, audible & visual lamp failure, remote-on and solenoid ready. Whether you are looking to control issues in both hot or cold water with UVT levels as low as 50% or to reduce TOC in industrial grade waters, RAINIER has you covered.
Available rage of Luminor water filter
There are many products in industrial segment. As per water consumption many products are available. Below are few popular models available in Dubai
27 GPM industrial water filter
44 GPM industrial water filter
67 GPM industrial water filter
84 GPM industrial water filter
106 GPM industrial water filter
109 GPM industrial water filter
167 GPM industrial water filter
207 GPM industrial water filter