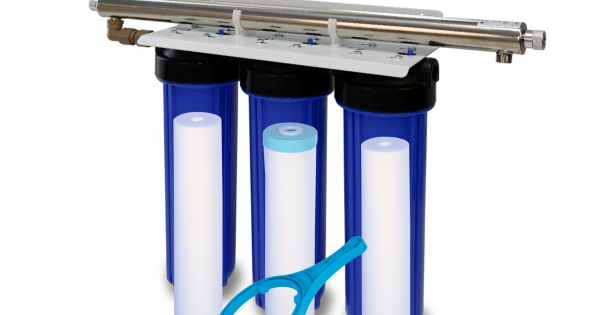 Jumbo Water Filtration System with UV includes convenient accessories for a variety of installation options. It's built for optimal performance and certified to deliver up to 10 gallons per minute, making it an ideal choice for whole house filtration systems. The filter boasts two purification technologies including UV sanitizer, which eliminates bacteria and viruses (99.9% effective) in the water by destroying them on contact.
Enjoy cleaner-tasting water in your home with the Jumbo Water Filtration System With UV. It helps reduce the odor and chlorine taste of tap water, allowing you to enjoy an exceptional glass of water without having to buy bottled water or invest in a whole-home filtration system.
The Jumbo Water Filtration System with UV sterilizes your drinking water, eliminates up to 99% of impurities and tastes great.
your water and drink more of it with this jumbo filtration system. The UV light keeps your water safe by killing off bacteria, viruses and other microorganisms. And, the carbon filter removes impurities from your water leaving it clean and pure.